Food Day 2015 Puts Spotlight on Greener Diets
---
Improving Diets and Pushing Policy Changes are Food Day's Objectives
October 22, 2015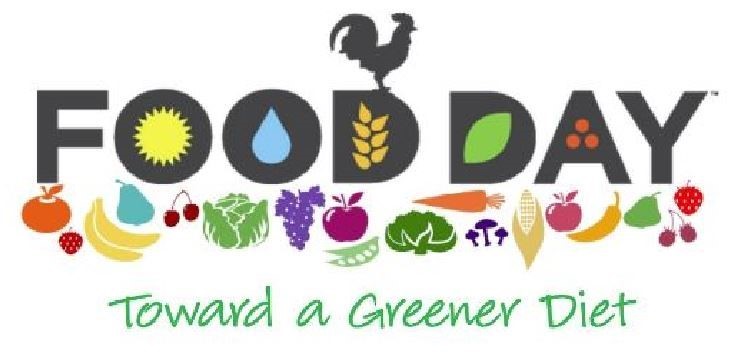 More than 300 organizations will serve meals celebrating plant-strong diets packed with fruit, vegetables, whole grains, and small amounts of lean, sustainably raised protein in celebration of Food Day on October 24. Food Day's Green Meal initiative is supported by The Humane Society of the United States, Health Care Without Harm, and Meatless Monday. This year, Food Day's goal is to raise awareness about the importance of eating less meat to support better health, animal welfare, and the environment.
The Green Meal initiative is only one of several thousand events taking place on or around October 24.
Several million people around the country will crunch into an apple as a unifying action to raise awareness about access and affordability of fresh fruit, and to support local farmers. Apple crunches will take place throughout New York City, throughout the Great Lakes region, and in schools all over America.
Organizers of Food Day hope that the occasion will spur people to improve their own diets and spur city councilors, governors, and Members of Congress to create better food policies. Officials in Massachusetts, for instance, will use Food Day to unveil a draft Food Systems Plan for the state.
In Savannah, GA, the fifth annual Food Day Festival is expecting between 10,000 and 15,000 participants at a free, outdoor festival featuring live music and more than 100 exhibitors and a farmers market.
Beginning October 22, Chicago will host a weeklong Food Day celebration and a harvest festival featuring good food, music, and local chefs.
New Orleans nonprofit Sankofa will open the first-ever Fresh Stop produce market in the Lower Ninth Ward on October 24. The market will operate several days a week and be the first and only place to purchase fresh fruit and vegetables in the Lower Ninth Ward.
Yale University will celebrate Food Day in the heart of campus, with master chefs, the director of the Yale Sustainable Food Program, and Food Network star Candice Kumai.
Minneapolis will hold an entire week of events from October 18 to 24. Events will include a harvest BBQ and potluck, an event featuring the voices of immigrant farmers and chefs, and a public Food Day proclamation made by City Councilmember William Finney.
People can participate in Food Day by making a small change, like cutting out meat from their diet one day a week.
"Meatless Monday is a great way to green your diet because it's simple–one day a week, cut out meat," says Sid Lerner, chairman and founder of the Meatless Monday campaign. "Make the commitment to go Meatless Monday this year on Food Day and keep it up all year long! It's good for your health and the health of the planet."
While Food Day emphasizes hands-on events, the Internet will be hopping with Food Day activities:
"It's an honor to partner with Food Day and to play a role in helping reach millions about the food issues that affect each one of us," says Rockefeller.
Food Day was founded in 2011 by the nonprofit Center for Science in the Public Interest and led by a diverse advisory board of physicians, nutritionists, educators, entertainers, chefs, and public health officials.
"Food Day seeks to inspire Americans to make meaningful changes for the better in their own diets, but also to spotlight local efforts to re-shape food policies in a healthier, more sustainable direction," says CSPI president and Food Day founder Michael F. Jacobson.